System Instruction
Step 1: Sign Up/ Log In
*Username (Customer Marking): Please avoid to use the capital letters.
*Customers can enter your personal details and your company name can be filled in the "Address Book" later, the shipping invoice won't be affected by your username.
Step 2: Click "
Modify address book entries
", fill in the personal information and address
*Company name - It will show in your shipping invoice. (If you are not running for a business, you can choose not to fill anything.)
*No matter this account is for personal use or commercial use, please fill in your full name.
*Picture 2 below shows the example of addresses for personal use and for commercial use.
*Default address for invoice: It is your billing address, and can be your shipping address as well if you select the same address when you submit your delivery order.
Step 3: Click "Warehouse Address", use the given information to fill in the address on your shopping site
*The following steps will use Taobao as an example.
*The receiver "收件人" in Taobao must be your marking in order to ease our warehouse staff to sign for your parcel.
*Tips: It does not matter if the postal code is not filled in on Taobao.
*Note: You must fill in your personal information and marking number. The pictures below are just examples.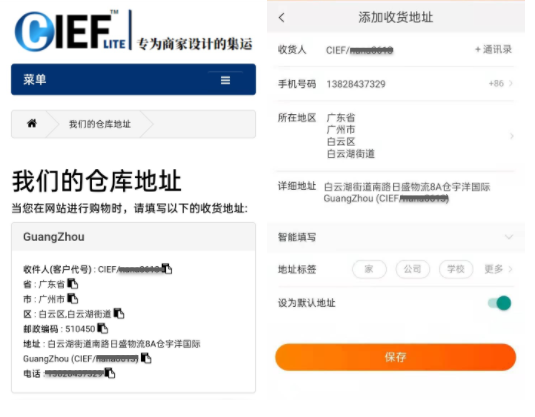 Step 4: Start to fill in the form in "Arrange Shipment" when your sellers have shipped out your parcels.
*Please use the first method to fill in your goods' info.
*Product Name - general name of the products (can be in Chinese or English)
*Product Quantity - the number of products in the parcel
*If you still have the parcel that the sellers haven't shipped out yet, you still can submit the order first and come back later to fill in the remaining parcels' info after you get to know the tracking number.
Step 5: Choose your goods for parcel consolidation and submit
*You can see your goods' status and its weight after the goods have storage in our warehouse inside "Product Order".
*Click "Parcel Tracking" to know more shipping information of your parcel.
*Tick the left-hand side box for the goods that you want to consolidate and click "Submit Delivery Order".
*Then, choose your shipping method and other additional services (not compulsory).
*Check for your shipping address. Shipping address can be different from the Billing address.
*If you purchased a large number of goods from Taobao/Alibaba or other platforms, please inquire the seller to ensure you have all tracking numbers of goods in case the seller has split your goods.
Step 6: Check your order status in "Delivery Order"
*Please wait for our warehouse staff to consolidate your parcel and weight your parcel.
Step 7: Click for "Top-Up" / "Top-up account balance" in the system
*This balance is only for shipping payment, and cannot be used in our exchange system.
*If you top-up less than RM200, an RM1.50 transaction fee will be charged.
Step 8: After top-up your account, you can return back to "Delivery Order" to make the shipping payment.
*You will be informed by an email for making the payment when your goods have been consolidated and weighed.
*In the "Delivery Order'', you can click "Pay", and you will see the page as below. Then, click "Invoice" to download your shipping invoice and click "Pay".
Step 9: When the delivery order status becomes "Delivery", you can start to wait for your parcel patiently.
*Customers can check for the "Order Tracking" anytime
*For air freight, the order tracking number will normally be shown faster than sea freight. For sea freight, it will need to take a few days to show the order tracking number.
Step 10:When the goods have arrived, please check the amount of the parcels. If everything is fine, you may click the "Received" button in the [Delivery Order] page